PUBG Mobile Cheats, Tips & Tricks – For You in 2019
PUBG Mobile cheats, hacks, guides, tips & tricks to become a good and competitive player.
Since launching on mobile devices last year, PUBG Mobile has made sensation, with 100 million downloads at the Play Store. Still, though fun, PUBG Mobile is not an easy game. You will compete, as a new player, with lots of other experienced players. Well, if you're a beginner at PUBG Mobile or in the battle-royale games in general, I have some tips, tricks and little cheats that will help you get that much-desired chicken dinner.
What is PUBG Mobile and how does a battle-royal match work?
Briefly, PLAYERUNKNOWN'S BATTLEGROUNDS or PUBG battle royale is a multiplayer game where 100 players are thrown out of a plane on a deserted island, and the end last one remaining alive is the winner. Throughout the battle, players have to collect various essential things such as weapons, armor, medic kits, energy drinks, as the game area is continuously shrinking.
15 PUBG Mobile cheats & tips for a better gameplay
In this game, survival counts more than the number of kills, the winner is the one who survives till the end of the game. At the end, the message "Winner Winner Chicken Dinner" appears to the winner. It is also worth mentioning that as you play more, you will be matchmaked with better players and the game will become tougher.
Now, let's stop wasting the time and get down to 15 PUBG tips that will help you survive and win in this battle royale.
Tip 1 – How to configure the player profile correctly in PUBG Mobile
For those who are now about to start their journey to PUBG Mobile, the following information can become very useful in setting their player profile:
As a new player, you must log in to create a new profile. You can do this by several methods, you can use Google Play Games, Facebook, Twitter or a Guest account. Attention, you can sync your progress only when you are connected with a Google Play Games, Facebook, or Twitter account.
If you choose to connect with Facebook or Twitter, it will be much easier to team up with friends in Duo or Squad mode.
Tweak your game settings
Before you start a battle royale match, tweak some of the settings in the game to improve your overall experience. Let's take them one by one:
Tip 2 – Make your choice, choose between FPP / TPP
It's sort of your personal choice, but it's very important. So, choose your preference between Third Person View or First Person View. To make this change go to Select Mode, and on the top bar choose between option Third Person View (TPP) or First Person View (FPP).
Tip 3 – Adjust your notch screen in PUBG
Even if you love them or hate them, notch screens have become a mandatory feature in 2019 and today they are present in different shapes and sizes. Therefore, Tencent has optimized the PUGB Mobile game for notch screens. To set the corresponding screen, all you have to do is go to the settings menu -> Graphics -> Non-Standard Screens -> Select Notched or Rounded Corners. Now it's necessary to restart the PUBG game so your settings can be applied.
Tip 4 – Make a coose between: solo, duo or squad
As mentioned earlier, in PUBG Mobile you can play solo, either with one or more friends for the Duo and Squad matches. In Squad mode, you can play with up to four people. To choose your favorite mode, follow the next steps Select Mode -> Team -> Select Solo, Duo or Squad Mode then tap OK button.
Tip 5 – Select the proper graphics quality
Always choose the right graphical settings, you can do this with a tap on Settings -> Graphics. I also recommend that you keep "Auto-adjust graphics" all time on Enabled, this setting will automatically lower your graphic settings if the performance decreases in some areas of the map.
Tip 6 – Check ping to a server or change server region
PUBG Mobile is a multiplayer game, so it depends on the Internet, with servers in most regions of the world. Before you start a game, do not forget to check the ping to all the regions to select the one that's right for you.
Tencent offers for PUBG Mobile five servers to choose from. Those are: Europe, North America, South America, Asia and KRJP. Each server has a different ping value depending on where you live. Always select the servers with the smallest ping because those are closest to you. You need to know that your stats are different on each server. To choose one of the servers, tap Select Mode -> Right corner -> Choose your server based on smallest ping.
Tip 7 – PUBG Mobile cheats, Enable Aim Assist.
If you are not a pro, you should keep Aim Assist on. What is aim assistance? Well the aim assistance is like an aimbot but without the autoshoot function. This function is there to help new players get used to game aiming controls. To enable it follow this steps tap Settings -> Basic -> Aim assist -> Enabled
Tip 8 – Escape faster from buildings. Enable auto Open Doors.
It's a good PUBG Mobile Cheats. By holding it on, this setting can help you get rid of buildings if you have an enemy group near you. This will automatically open all the doors in your path. However, there is the possibility of accidentally opening a door at the wrong time. Anyway, I personally prefer to keep it active. You can find it at Settings -> Basic -> Auto-open doors.
Tip 9 – Make your own button placement
Do not you like the controls in the PUBG? Well, you can change them and customize them as you want. The game comes with several button layouts that you can select depending on the placement of your fingers on the display. If you have a small display you can also resize them according to your needs.
To change the layout of the buttons follow the steps: Settings -> Controls -> Customize, now adjust them carefully as you wish and tap the save button after you finish.
Tip 10 – Choose your Play Mode: Classic, Arcade or Event
PUBG Mobile has three modes Classic, Arcade and Event. In classic mode there are 100 players who compete for the first place. On the other hand, Arcade offers various options such as War, Quick Match, Sniper Training and Mini-Zone that you can select and play. Event mode has been recently added to the game and includes an time exclusive zombie mode due to a collaboration with Resident Evil 2 Remake.
Tip 11 – Download maps or change between them
At first, PUBG comes preloaded with the Erangel map. The other two, Miramar and Sanhok can be downloaded after you have made minimum level 5 on your account. Vikendi is in beta at this time and can be downloaded without a level restriction.
You can download maps with a tap on Select Mode -> Classic -> Map -> Miramar (~ 325 MB) , Sanhok (~ 82.4 MB) or Vikendi (Beta).
Tip 12 – Decide carefully where you land
Landing in a proper place is very important, because it just takes a bullet to get down. Choosing a suitable landing place can sometimes be tricky, lots of loot areas are very dangerous and risky. Each map of PUBG has its hot spots where you will find the best possible loot.
Good loot spots in Erangel Map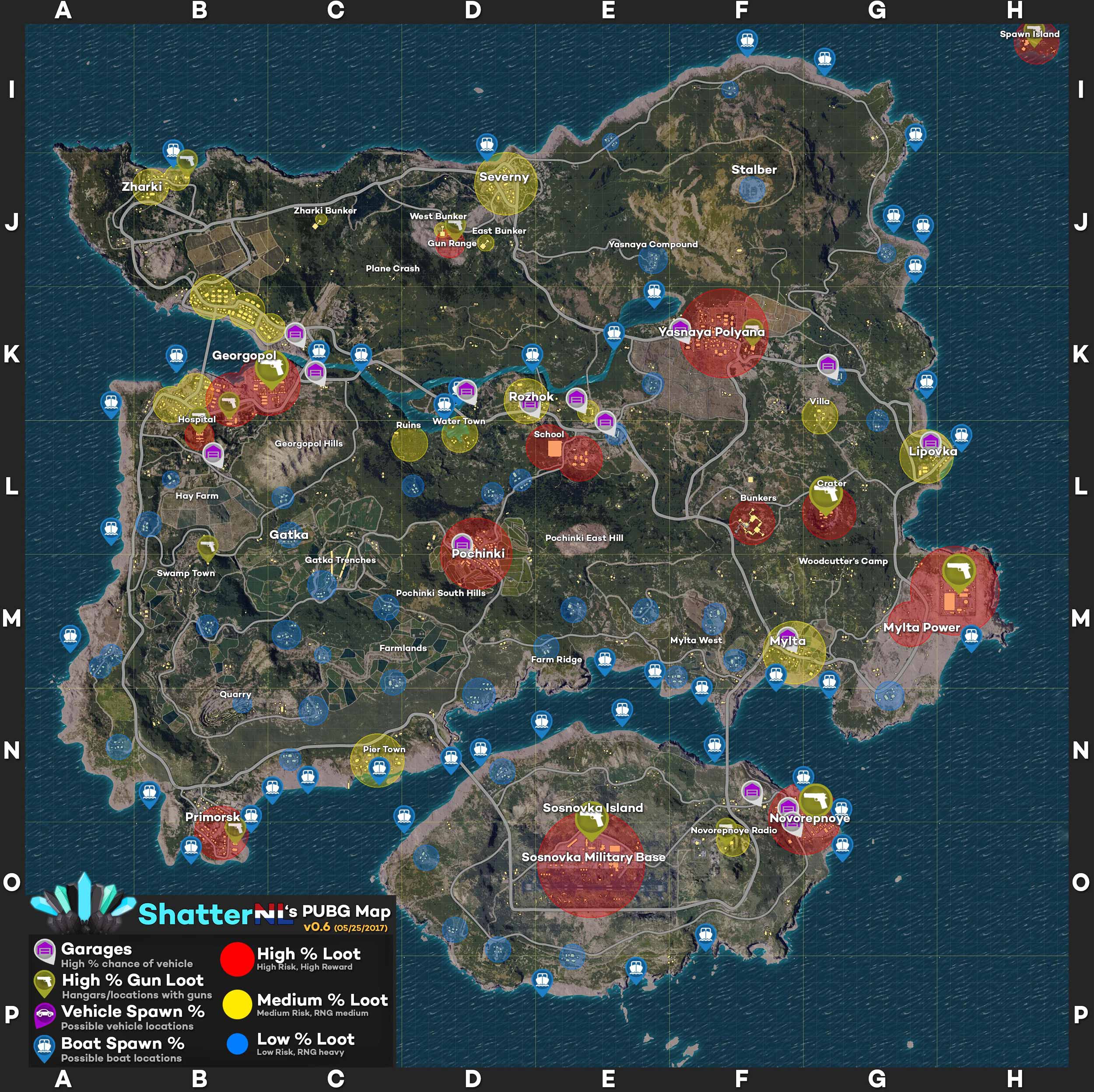 Military Base
Georgopol
Novorepnoye
Mylta
Pochinki
Mansion
Mylta Power
School
Severny
Good loot spots in Miramar Map
Hacienda del Patron
Los leones
Pecado
Prison
Campo Militar
Good loot spots in Sanhok Map
Paradise Resort
Bootcamp
Pai Naan
Ruins
Good loot spots in Vikendi Map
Tip 13 – Never forget about Mini-Map, keep an eye on it
Always look at Mini-Map because it is extremely useful. Watching at the Mini-Map, you will be able to see the enemy's steps, the movement of the cars, the movement of the circle, and the direction of the gun fire. Mini-Map also gives you information about safezone, timing, circle movement, direction where you going.
Tip 14 – Always take the best PUBG mobile weapons
There are several types of weapons you can find in PUBG, from Assault Rifles, Designed Marksman Rifles (DMRs), Light Machine Guns (LMGs), Short Machine Guns (SMGs) to Pistols, Shotguns and Snipers. All these types of weapons have different rates of fire, ranges, recoil, bullet travel speed and damage multiplier rates.
Guns recommended by me in PUBG Mobile:
AWM
AUG-A3
M416
MK14EBR
SKS
GROZA
M249
Tip 15 – Use a vehicle to go faster in the zone
Did not you reach the circle safety area? Do not be afraid, instead of running, better look for a vehicle and making your life easier. Vehicles are always on the edge of each road and can be spot quite easily. Tip, try to find a covered vehicle because it will give you more protection than an uncovered one if you meet an enemy.